OR…is Technology Finally Coming to You – the CFO – the Backbone of American Business?
We're not your normal insurance brokerage. We actually listen to what's really a challenge for you and your business. Over the years, one of the greatest challenges we've heard about is that the inability to enter, manage, and administer your employee's life cycle in one place has caused major labor intensive and error-prone cascading effects through your accounting/back office departments.
Reports from multi-systems that don't match? – without a single database it's guaranteed to happen
Benefit costs and employee deductions don't match? – without a single database it's guaranteed to happen
Labor locations and cost locations don't match? – without a single database it's guaranteed to happen
Fearing ACA fines because you'll have to merge data from multiple systems? – without a single database it's guaranteed to happen
Are You Prepared for the ACA Apocalypse?
Labor allocations and general ledger costing? We've never met a CFO who didn't speak about the hassles they've had trying to integrate their time and attendance, payroll and benefits management systems. And now all of the sudden the government is requiring that all of these systems talk to one another to produce this report called the 1095-C? Jeez – can your life as a CFO get any more difficult?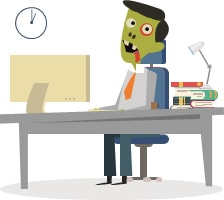 Do you feel like you're being dragged back into the Walking Dead world of data consolidation that you left in that first job after college? Well, you've worked way too hard in your career to end up in that job again and that's not where your business needs you. You need all of this data management automated so that you can be where you need to be, helping guide your business financially. We at Michigan Planners understand that.
Your Ultimate Survival Survival Kit
We've exhausted our resources, our energy, and our investments to provide you with that single database, single application you've been looking for – a fully unified solution that allows for the administrative management of your employee life cycle in one place with analytical reporting from a single system of record. It is about time technology provided you with something besides a cool search engine like Google or streaming videos on Netflix. And no, this is not a bunch of hoopla. This is Broker-Tech!
Our system is based on your actual, tangible financial costing requirements:
Position Costing and Labor Allocations at the FTE level or the Corporate Level (Yes…it works!)
General Ledger Validation tables inside the same app you post net pays from, eliminating the need for a separate login to a GL interface (Never seen that before? – well, you should have it!)
Exports that can be created for your ERP so you don't have to have to have an employee key in anything
Location and Department tables that drive your Enterprise Time and Attendance locations and costing (through punches and all) based ONLY on your HCM inputs
Single entry, single database architecture ensures mid-period pay rate changes are calculated appropriately
Single integration allows for overrides on labor costing at the time, payroll, and ledger level with multi-level validation reports so you should never have to make a 'manual journal entry' (Such a dirty phrase, right?!)
Benefits costing that's managed annually with the ability to drill down at the deduction level by pay period (All it takes is one entry and the system handles everything else – for example: creating a deduction based on YOUR pay cycles and all you have to do is enter your annual costs.)
General Ledger costing on-demand at the Employee, Department, Location, or Company level or any combination in between
The Special Ops of Human Capital Management
Why should you have to pay Oracle or SAP for what you've always needed? Shouldn't someone come up with a solution that can be customized to your company's unique specifications without you having to spend $100K-$1M in the process?
In this day and age, this type of technology should be available to you. It should be provided as Software-as-a-Service. And it should be created with enough capabilities to meet the true needs of your business – to cost appropriately back to your P&L statement while only needing to input your data in one place, in one application.
This is that solution. This is the Special Ops of Human Capital Management and Compliance and it's now available to you due to the demands of the governmental requirements of the ACA.
We understand that these are very real problems you're facing every day. That's why we've embraced the technology for you so that we can solve these problems.
We are Michigan Planners. We are Beyond Enrollment. We are the Broker-Tech of the future.
Maybe you don't believe us? Well then, let us show you everything that we've stated above.
Labor allocations, P&L costing accuracy, benefits deductions and reporting…it's all merging. We're at the epicenter of that merger. That is why you partner with firms like us.