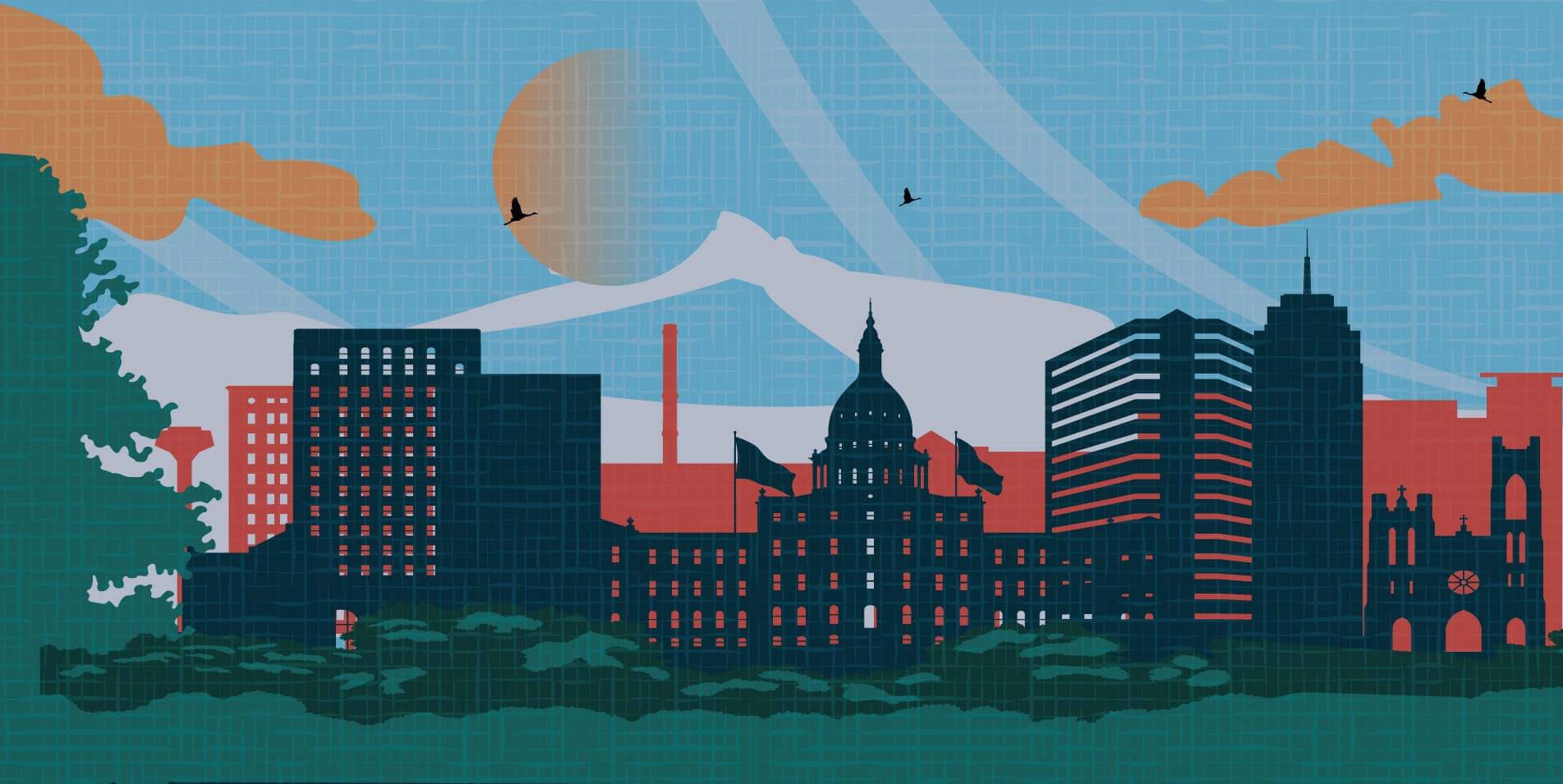 Insurance Brokerage Firm Serving Lansing, MI
Michigan Planners provides access to affordable and comprehensive healthcare coverage for small and large businesses, individuals, and Medicare-aged individuals in Lansing and all of the Ingham County area.
We Work Hard So You Don't Have To
Welcome to Michigan Planners
Does your company have a high turnover rate? Empower your employees to stay by offering quality insurance benefits. As an insurance brokerage firm in , we work on your behalf to find the most cost-effective solution for your business. This will help you retain employees so your company can thrive in the long run.
Big Enough to Serve, Small Enough to Care.™
Michigan Planners is a third-generation company with deep roots in the Great Lakes State. As such, we understand our clients' dedication to provide for their employees and families. We've been helping small to mid-sized businesses throughout Michigan since 1962.
You've invested a lot of time and sweat equity into your business. But if you don't offer quality employee benefits, you risk losing your team to the competition.
You can trust Michigan Planners for all of your insurance needs.
We offer the following employee insurance and brokerage services to companies in Lansing, Michigan:
Medical and prescription insurance
Disability insurance
Life insurance
Worksite benefits
Dental insurance
Vision insurance
We don't work for the insurance companies. Instead, we work on your behalf. This means that you can have peace of mind when you work with our team. It has always been our goal to help you grow your business so you can thrive in any economy.
We Love Lansing!
Lansing has
than similar metro areas in the United States. It's also worth mentioning that Lansing's labor force grew more than any other Michigan city from 2013 to 2018.
With so many young professionals, it's vital that companies offer competitive employee benefits to attract (and keep) the best talent. Our team of experts can help you do exactly that.
Lansing is the capital of Michigan and home to many different industries including:
Healthcare
Insurance
Banking
No matter your industry, we can help you shop for the best group insurance quotes for your business.
Transfer or Start a New Benefits Program
Michigan Planners is an (800) 674-9235 to speak with one of our advisors.
. As such, we would be more than happy to help you transfer or start a new benefits program. To get started, call
See What Our Clients Are Saying!
Selling our book of business to and partnering with Michigan Planners has been a solid decision for our organization.  The company's attention to detail, increasing the level of options and service for our members has been outstanding.  We heartily recommend them to others.

For over a decade Michigan Planners has helped our company successfully manage our healthcare benefit offerings with tremendous knowledge and impeccable customer service.

Wes (Shivel) reached out to me and has been working with my parents. He did a great job explaining things to my parents and was very helpful. Once again, Michigan Planners earns 5 stars!!! I can't express how appreciative we are for your help.

I honestly don't know what I would do if I didn't have Shelby to help me with all my benefits questions/concerns. She is my angel!

With the help and direction of Michigan Planners, we have been able to streamline HR functions, both with daily processes as well as reporting and open enrollment improvements.

As the HR Coordinator for a small specialty manufacturing company, I wear many hats. Since I wear so many hats it was wonderful to work with a company that could take some of the load off of my shoulders. The entire team at Michigan Planners has a wealth of up-to-date knowledge and I take a tremendous amount of comfort in knowing that we are in good hands. I honestly can't imagine working with a better company and I can't recommend Michigan Planners enough!!!!

MI Planners is a true partner in addressing and understanding the specific needs of our municipality. They make it a point to understand our organization and make recommendations with our best interests in mind. With a highly knowledgeable workforce, they have the tools necessary to meet our needs strategically and administratively, as well as the needs of our employees and retirees, personalizing each interaction. They truly have become part of our organizational benefits support team. The combination of their expertise, support, and customer service is what puts MiPlanners above everyone else. We are proud of our continuing business relationship with them.

The Michigan Planners team makes my job so much easier. I turn to all of them, and it gets taken care of. It really doesn't get any better than that. A job well done takes Michigan Planners at the helm. I expect nothing less from Michigan Planners...you guys are the cat's meow!!!

Happy Dance happening in Harbor Springs! I just did my 2020 enrollment online and I LOVE IT!!!!!!!!!! I love how it looks and YOU WERE ALL CORRECT…WOW it is super easy. My favorite part of the whole process was seeing the beautiful "print" button at the end with a line for team members to sign-yay!!!!!
MI Service Model
You can look to us for everything you want to provide your employees.
The Tech Effect
Hi-Tech, hands-on solutions for education, enrollment & administration.
Webinars & Continuing Education
Stay informed while learning from subject matter experts regarding a variety of human resource-accredited webinars.
Regional Benchmarking
Local employer and carrier data to maintain your plans' competitive edge, while analyzing marketplace trends.
Erisa Compliance
Documents, employee notices and reporting assistance to maintain complaince.
Plan Evaluation & Goal Determination
An in-depth review of your companies benefit landscape, where it is today and where you want it to be in the future.
Market Review & Vendor Assessment
A thorough review of the best market fit for your organization through analysis and negotiation.
Benefit Strategy & Plan Recommendations
Long-term actionable steps to establish plan continuity, while maintaining corporate goals.
Employee Contribution Discussion & Development
Strategies to keep your plan affordable and competitive.
Engagement
Reach your employees via text messaging, email, video, in person, and webinar.
App Usage & Education
Convenience, efficiency and awareness in the palm of your hand.
Well-Being
A customized strategy targeting the employee and covered dependents for a healthier more engaged team.
Claims Services
We fix it when it breaks with compassion and efficiency.
Benefit Books & Enrollment Forms
Comprehensive, yet understandable, benefit resources.
Educational Videos
Simplifying the communication process.
Employee Meetings
Personal approach at open enrollment and new hire benefit orientation.
Consumer Advocacy
Know before you go, cost estimator and personal health shopper
Plan Design
Consulting and partnering in all areas of plan design for:
Defined Contribution (401(k), 403(b), 457, Profit Sharing) Defined Benefit (Traditional & Cash Balance) Employee Stock Ownership Plans (ESOP) and Non-Qualified Plans.
A Strong Commitment to Retirement Plan Education
Successfully enroll eligible employees at appropriate contribution levels.
Consult with employees to make them aware of their current Retirement Readiness status through personalized retirement reports and ongoing employee reviews.
Fee Transparency in All Areas
(Recordkeeping Investments, Fiduciary Services and Financial Professional)
Clear separation of expenses
Lower cost investment options
Assist in managing fiduciary responsibility
Clear Understanding of Deliverables
Clients receive a detailed service agreement, which outlines:
Investment Reviews
Benchmarking Plan Costs
Education meetings, all employee and one-on-one

Disability Insurance

Worksite Benefits

Vision Insurance
Carriers
Michigan Planners represents all trusted and recognizable brands with a proven track record of quality, reliability, sustainability, and efficiency. Employer-specific recommendations from our carrier portfolio are based on a competitive economic position and the ability to deliver the ideal solution for all affected parties.